ATV LOCKSMITH SERVICE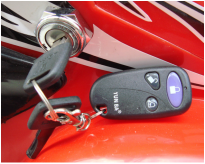 The Key Guy specializes in making keys for ATV, and guarantees to do so without any damage to your personal property. We can replicate or generate new keys for all ATV models and years.
We have special tools by which we can make original keys without removing the locks (ignition, gas cap) from the ATV.
We are mobile and will come to your location. It can be very frustrating when these emergencies arise which can often lead to unintended costly damages to your ATV.
The Key Guy is here to help.
If you have lost your keys, have a broken or non functioning keys, or have something stuck inside the ignition, call the Key Guy today. We have trained technicians who are certified in making ATV keys. Our services are available 24 hours a day and 7 days a week, rain or snow. We guarantee to operate under the highest efficiency, and will always have the technician contact you to verify your location prior to dispatch. You can trust that the key guy can fix all your ATV locksmith needs, for the cheapest prices in the Richmond Virginia area. In addition to emergency services, we also provide non emergent appointments for your convenience.
Call 804-510-0539 for all your ATV Locksmith needs.
---